Thursday 03/12/2020 – energiesdelamer.eu. DNV GL predicts that the installed capacity of floating wind would grow from 100 MW today to 250 GW in 2050, while the levelized cost of energy would fall to a global average of 40 EUR per MWh.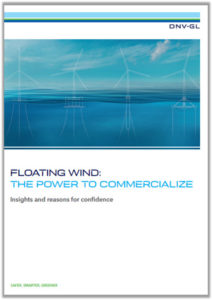 In this new report, Floating Wind: The Power to Commercialize DNV GL provide expert insights on the road forward for the industry.
Press release – « In a series of articles, we explain the opportunities floating wind presents for players in the offshore wind, oil and gas and maritime industries as well as their supply chains, investors and society as a whole, and how these stakeholders can work together to commercialize floating wind. Having been involved in the floating wind market since the very beginning, the report covers in detail the insights and experiences of DNV GL's experts on the following topics:
How floating wind will boost the energy transition
How cost reductions can be achieved
Developments in key markets
How to bring comfort for investors
The importance of standards to mitigate risks
Solutions for yards to achieve cost-effective floating wind construction
The need for digital innovation to handle the technology's complexity
Knowledge transfer from oil and gas projects
Pour vous procurer le rapport c'est sur le site de DNV – ICI
Mis en ligne également dans la rubrique « Rapports » avec l'aimable autorisation de la direction communication de DNV
---
Ne copiez pas l'article, copiez le lien, vous protégez ainsi les droits d'auteur de notre équipe rédactionnelle.