Allemagne – Mercredi 28/03/2018 – energiesdelamer.eu. Seaway Heavy Lifting's vessel Oleg Strashov will install the 4,000-tonne Arkona topside onto its jacket foundation.
STX France sent off the substation from its yard in Saint Nazaire to the German Baltic Sea three days after the jacket.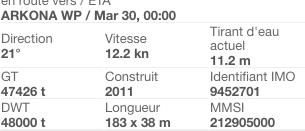 The topside will travel to its destination site for around two weeks. On its journey, the substation will pass through the Bay of Biscay, then over the English Channel into the North Sea, and past the northern end of Denmark through Skagerrak and Kattegat to the construction site 35 kilometers northeast of German island of Rügen.
According to E.ON, Oleg Strashnov is currently the largest crane vessel available in the Baltic Sea and, by taking the topside from the barge to place it on top of the foundation, it will carry out the installation of the heaviest AC platform ever built in a single block. Photo E.on
The Oleg Strashnov is a hull shape and is outfitted with the latest technology. Its 5,000 tonnes revolving crane has a main hook lifting height of 102m. There are 800 tonnes and 200 tonnes auxiliary hooks and a 30 tonnes trolley hoist.
The substation will collect the power generated by the turbines and transfer it to 50Hertz's onshore substation in Lubmin via the 93-kilometre Ostwind 1 cable system. The offshore platform will be used simultaneously by the wind farm and the power grid operator 50Hertz.
Comprising 60 Siemens Gamesa wind turbines of the 6MW class, the EUR 1.2 billion offshore wind farm will have an output of 385MW and, from 2019 onwards, will be able to supply about 400,000 households with renewable energy.
Van Oord's heavy lift installation vessel Svanen successfully completed the installation of 60 monopiles at the Arkona offshore wind project, making the first contours of the 385 MW wind farm in the German Baltic Sea visible. E.ON awarded Van Oord the contract for the transport and installation of the monopiles and transition pieces. Currently, Van Oord is installing the transition pieces. The Arkona offshore wind farm is expected to be fully commissioned in 2019, and it will be able to supply renewable energy to 400,000 households. Besides E.ON, the energy company Statoil also has a 50-percent stake in the project and has been involved from the start.
Points de repère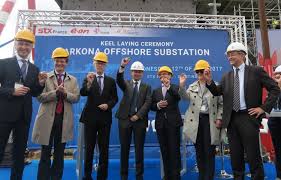 2/03/2018 – Le 1er mars dernier, la sous-station P34 conçue sur un design de STX pour Arkona, commandée par E.ON et ses partenaires 50Hz Transmisison et Statoil a été inaugurée à Saint-Nazaire. Un film tourné par STX France durant sa construction est disponible sur You Tube. Le portail energiesdelamer.eu vous fait vivre ou revivre cette cérémonie exceptionnelle. Remerciements à STX.
{youtube}Q6Mzdt_bCMA{/youtube}

Publicités Google :