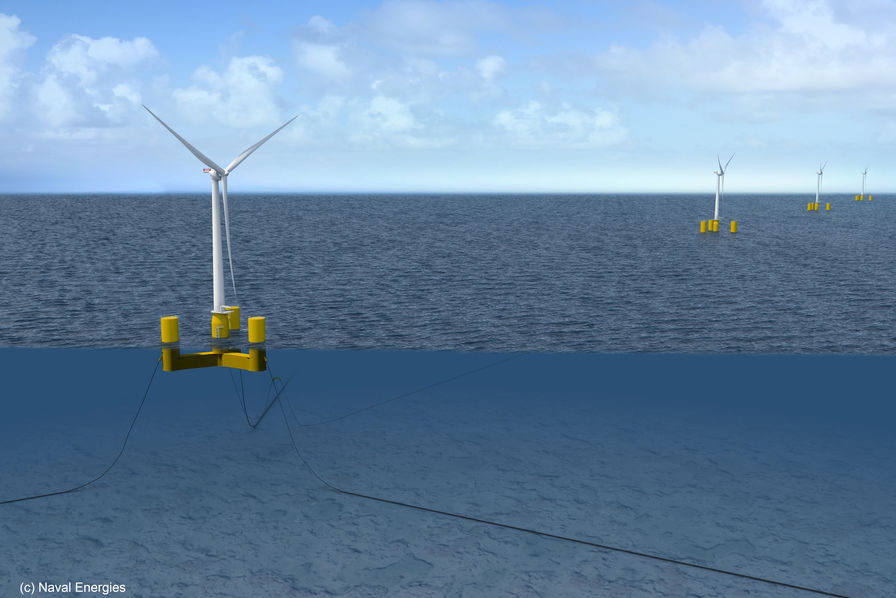 France – Mardi 9/07/2019 – energiesdelamer.eu – On the occasion of the recent trip to Japan of the President of the French Republic Emmanuel Macron and the Minister of Economy and Finance Bruno Lemaire, Naval Energies, a leader in Marine Renewable Energies in France and Hitachi Zosen Corporation, a leading developer and manufacturer of renewable energies in Japan, announced their cooperation in the field of floating wind energy.
The project between the two companies is based on a feasibility study to jointly design and build floating wind turbines with a capacity of several hundred megawatts using Naval Energies' semi-submersible floater solution off the Japanese coast.
Takashi Fujita, General Manager of Wind Power Business Unit at Hitachi Zosen Corporation said: "Among all floaters developed in the world, we consider that Naval Energies' semi-submersible floater, which has many advantages, is one of the best on the market. We appreciate that Naval Energies is participating with us in this feasibility study and we hope that Naval Energies and Hitachi Zosen will contribute to the development of an industrial floating wind energy industry in Japan. »"
Laurent Schneider Maunoury, President of Naval Energies said: "We are very proud to have been selected by Hitachi Zosen for this study and look forward to continuing our collaboration with the objective of becoming an industrial partner for the design and manufacture of floaters. The environmental conditions in Japan are very favourable for the installation of this technology and we have all the necessary know-how for the local development of this new industrial sector. We hope that this step is the first of a long-lasting and fruitful collaboration between our two companies."
Press release : Hitachi Zosen / Naval Energies

Points de repère
12 April 2019 - Hitachi Zosen Establishes Limited Liability Company toward Operation of Aomori Northwest Offshore Wind Farm Business. itachi Zosen Corporation, in partnership with Eco Power Co., Ltd. (Shinagawa-ku, Tokyo; President Toshiyuki Mizui), has established Aomori-Seihoku-Oki (Northwest) offshore wind Godo Kaisha, a limited liability company dedicated to the installation and operation of and wholesale electricity supply from the offshore Wind Farm at Seihoku-Oki in Aomori prefecture.
The new company will undertake activities toward commissioning in or after 2025.
Outline of offshore wind farm business
1. Commissioning: In or after 2025 (scheduled)
2. Power output: 500 MW (4,000–9,500 kW per turbine)
3. Number of units: Max. 125 (in case of power output 4,000 kW)
4. Installation area: Coastal and offshore waters of Nakadomari-machi, Kitatsugaru-gun; Goshogawara-shi; Tsugaru-shi; and Ajigasawa-machi, Nishitsugaru-gun
* Details above are as of the planning stage and subject to change.
Outline of limited liability company
1. Company name: Aomori-Seihoku-Oki offshore wind G.K.
2. Established: April 5, 2019
3. Address: 1-7-89 Nanko Kita, Suminoe-ku, Osaka-shi, Osaka
4. Operation executing employees: Hitachi Zosen, Eco Power
5. Representative employees: Hitachi Zosen
6. Execution of duties: Takashi Fujita, Yoshito Takano, Shuichi Manabe, Ryuta Okubo
7. President & CEO: Takashi Fujita
8. Capital: 10,000,000 yen
9. Investment ratio: Hitachi Zosen 50%, Eco Power 50%
10. Description of operations: Installation and operation of and wholesale electricity supply from the offshore Wind Farm at Seihoku-Oki in Aomori prefecture

The offshore Wind Farm business at Seihoku-Oki in Aomori prefecture seeks to reduce greenhouse gas emissions by generating electricity with a clean energy source that is an alternative to fossil fuel. The local production, local consumption model also hopes to contribute to the regional economy by creating jobs in the construction and operation phases, and by creating business that will revitalize the economy after commissioning.